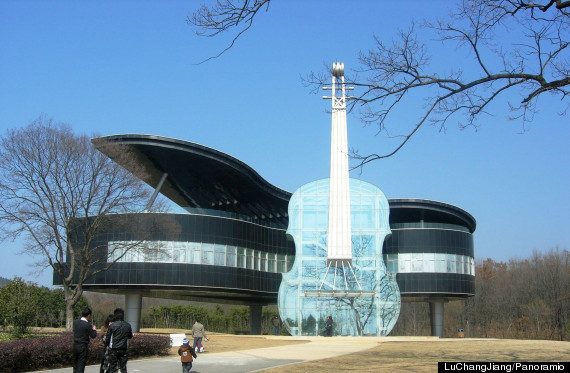 Image source - www.huffingtonpost.in
Describe an interesting / unusual building.
You should say:
where the building is

the kind of building it is

why you think it is interesting
and explain how you know about this building and what it is used for.
I want to talk about this building in China that I think is very unusual. It is a giant building in the shape of a violin and a piano. I have not personally visited this building as I've never been to China. I actually saw its photos on a blog that I was reading on the Internet. I found all the photos really interesting and I decided to read more about the building. According to that blog post, this building is located in Huainan in China and was built in 2007 by some architectural students. The huge piano-shaped building has a giant violin made of glass attached to it. There are escalators inside the glass violin structure that allow people to access the main piano-shaped building. This building is currently being used as a showroom. It has become a popular tourist destination in China. I think this building is really interesting because even though it has a strange shape, it looked truly beautiful in the pictures. I can't imagine how grand it would look in real-life. I keep imagining what kind of a person would want to live here…..maybe a music lover, perhaps. I think it would be ideal if some popular Chinese pop star or musician gets to stay in that house.
IELTS Speaking Cue Card - Describe an interesting / unusual building.
Reviewed by
Devanshi
on
July 14, 2018
Rating: